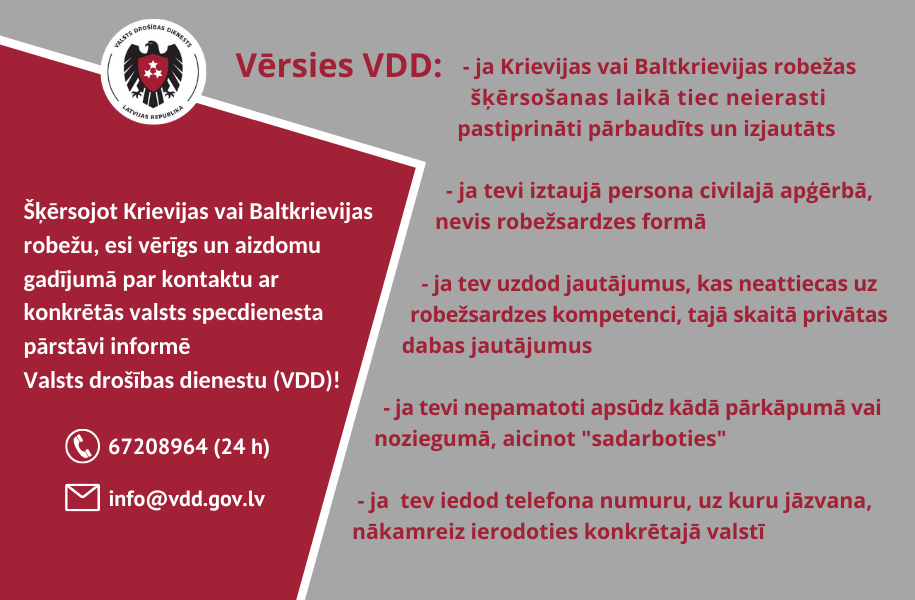 Latvian State Security Service (VDD) calls on Latvia's population not to travel to Russia or Belarus during the upcoming Easter holidays, reminding about the high intelligence and recruiting risks in the territories of these countries.
Russia's war in Ukraine has significantly affected the security situation also in other European countries, thus increasing the risks to Latvia's national security. In connection with the tension between Western countries and Russia, the aggressor state and its closest ally Belarus have intensified their efforts to obtain intelligence information about the Western countries, including Latvia.
Taking into account countermeasures implemented by VDD in cooperation with other services, the opportunities of Russian and Belarusian intelligence and security services' officers to operate in the territory of Latvia have become limited. Due to the mentioned circumstances, the intelligence and security services of Russia and Belarus are interested in using Latvian nationals who have entered the territory of these countries to obtain intelligence information. VDD draws attention to the fact that the first attempt to approach often takes place at a border control point, with representatives of intelligence and security services impersonating border guards or using other guises - as law enforcement agencies, as well as any other Russian or Belarusian authorities.
VDD warns that Russian and Belarusian intelligence and security officers will not hesitate to use threats, blackmail and other illegal methods on the territory of their country to try to force cooperation with them.
One of the priority goals of the Russian intelligence and security services is the reduction of international support to Ukraine. Therefore, individuals who have been involved in providing various resources and other forms of assistance to Ukraine are strongly advised to refrain from visiting Russia or Belarus.
If there is a need to go to Russia or Belarus, VDD recommends not taking your mobile phone, especially if it contains work-related or sensitive information. At the border control point, the mobile phone may be data retrieved and it may also be infected with spyware. A safer choice will be a mobile phone with a prepaid card, which can be disposed of after the trip. Also, it is best not to bring a computer, flash drives and other electronic devices.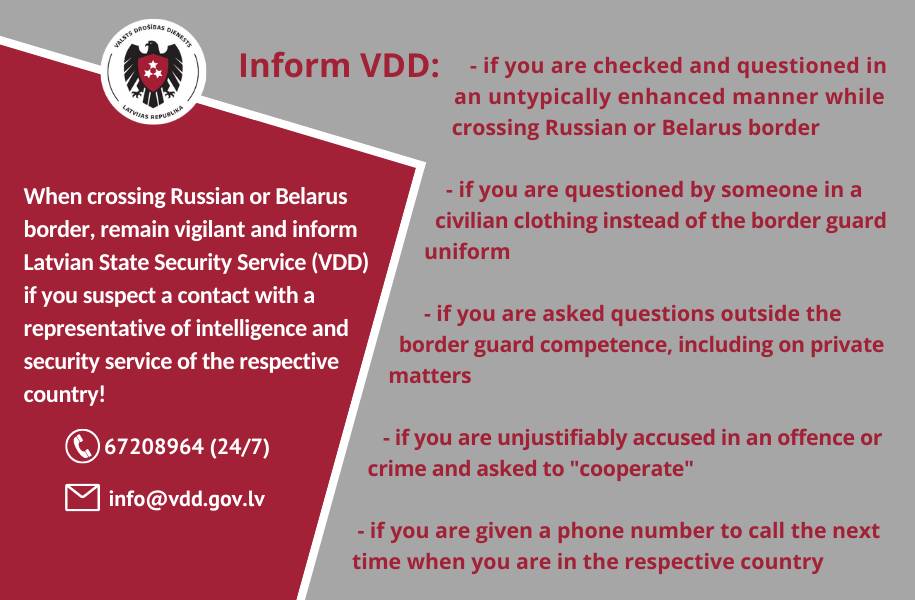 VDD reminds of the signs that may indicate contact with a representative of the Russian or Belarusian intelligence and security services during border crossing:
unusually increased scrutiny and questioning;
questioned by a person in civilian clothes, not in the uniform of the border guard;
the person asks questions that do not pertain to the competence of the border guard, for example, about the situation in Latvia, the attitude towards the events in Ukraine, war refugees who entered Latvia, the support provided by Latvia to Ukraine;
asks private questions

–

about the workplace, duties, financial situation;
accuses of some offense or crime in an attempt to force "cooperation" in exchange for release from liability;
gives a phone number to call the next time you arrive in that country.
VDD draws attention that the purpose of an intelligence and security service officer is not always to recruit a person. The officer can also obtain important information during a simple conversation.
In case of suspicion of contact with a representative of the Russian or Belarusian intelligence and security service, VDD encourages to provide information about it by calling VDD's 24-hour phone number 67208964 or by writing to the e-mail address info(abols)vdd.gov.lv. VDD guarantees the confidentiality of the information provider.

Information prepared by VDD