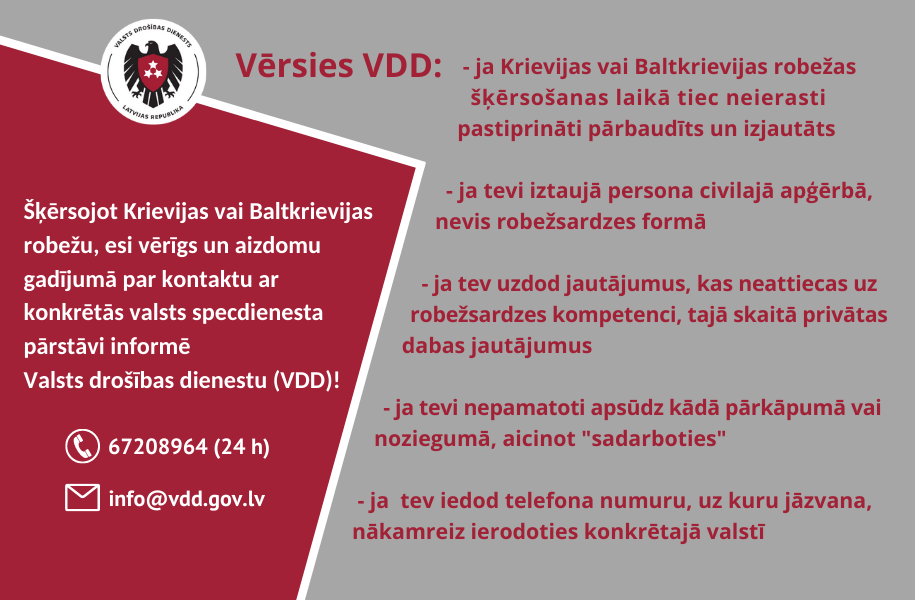 Considering the current security threats in the region that are related to Russia's war in Ukraine as well as Russia's aggressive rhetoric about Latvia, VDD calls on Latvian population not to travel to Russia or Belarus during the upcoming holiday season.
VDD recalls that the officers of Russian and Belarus intelligence and security services most often approach and try to recruit Latvian citizens in the territory of the respective country. The first encounter usually happens while crossing the border as the intelligence and security services officers pose as border guards. However, they may also use other covers like security and law enforcement authority or any state or municipal institution.
Therefore, VDD recommends everyone to remain cautious when encountering any Russian and Belarus state and municipal institution, as well as persons who work at state companies and higher education institutions, research institutes and advanced technology sector. As VDD has already informed, it is characteristic for Russian and Belarus intelligence and security services to use the so-called "assigned officers", who work under the cover of the said institutions.
Due to the high risk, VDD urges everyone who has to cross Russian or Belarus border to remain vigilant and inform VDD about potentially suspicious situations. Those are such cases when enhanced checks and questioning is performed during the border crossing or during the stay in the said country as well as cases when person's electronic devices have been accessed. VDD also urges all Latvian population to inform VDD about cases of pressing unjustified charges about an offence or crime or if an offer is made to cooperate with Russian or Belarus intelligence and security services.
You can contact VDD over the phone +371 67208964 (24/7) or over e-mail info(abols)vdd.gov.lv. VDD guarantees the confidentiality of the information provider.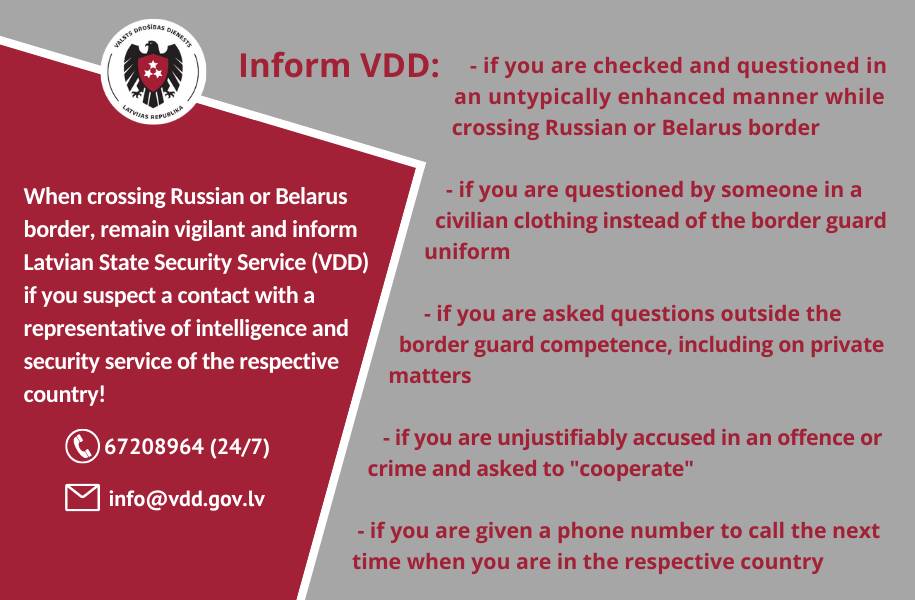 Information prepared by VDD