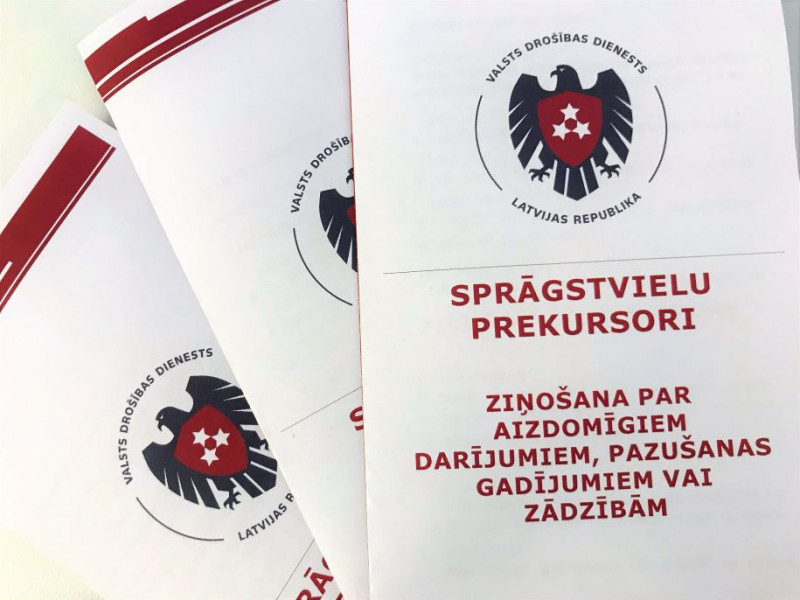 On 30 April 2019 VDD held a briefing for companies regarding the security of explosives precursors marketing.
The aim of VDD's briefing was to raise awareness among the Latvian companies involved in precursors' trade regarding the characteristics of suspicious attempt to purchase precursors and the actions in relation to significant disappearances and thefts of regulated explosives precursors.
During the briefing companies' representatives were provided with information about the legislation in Latvia and legislation laid down in the Regulation (EU) No 98/2013 of the European Parliament and of the Council on the marketing and use of explosives precursors. VDD officials briefed the company representatives about the terrorism threat trends in Europe and Latvia, introduced the functioning of the national point of contact that was established to report suspicious transactions, informed about the current developments within explosives precursors domain, the foreseen amendments to provisions of the Regulation (EU) No 98/2013 and the issues related to the circulation and security control of explosives precursors.
The briefing was attended by 20 representatives of Latvia's largest companies, whose business field is related to trade, manufacturing and marketing of explosives precursors.
Explosives precursors are specific substances and mixtures containing such, which can be used to manufacture explosives. These substances are mainly sold for other purposes, for example in agriculture, construction or pharmacy. However according to the terrorism threat trends in Europe, in order to maximize the number of victims, explosives manufactured of such substances are often used. To limit the usage of precursors for illicit purposes and thereof prevent the opportunities to conduct terrorist attacks, the European Union has set a centralized mechanism for the marketing of explosives precursors.
VDD holds briefings on security measures related to the marketing of precursors on a regular basis. These events are a part of the preventative counterterrorism system, which was built with the aim to raise public awareness by fostering a common understanding of a number of security-related issues.

Information was prepared by VDD